UPCOMING :
The exhibition 'Maybe I Manifested It' will take place between 24.03. – 15.04. 2021 at Kunsthistorisches Museum Vienna,
in partnership with Academy of Fine Arts Vienna. The exhibition is a result of the competition 'Manifestation of Profane and Sacred Power'
and centers around the imperial crown of Austria, kept at the Imperial Treasury at the Hofburg in Vienna and the Wiener Gregorplatte.
Works of Yul Koh, Theodor Maier and myself will be exhibited.
***
RECENTLY :

Word of got (sic)

Can not be at this years viennacontemporary? In this art project by Mandy Mozart you will be able to remote control a pope avatar across the exhibit.
Enter the hangout room to give your commands. Avatar costume: Patrizia Ruthensteiner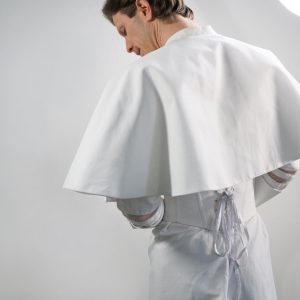 ***
Skills : Arien aus Stein
ARIEN AUS STEIN is a concert with stories dedicated to a public space by musician and choreographer duo SKILLS.
Dates: 25.09.2020 | 18:30 [World Premiere] , 20:30
26.09.2020 | 16:30 , 18:30 , 20:30
Location: Balduintreppe, St.Pauli, FREE ENTRY